Hymer sees future in slow travel
Friday, July 17, 2020 - 20:45
Caravanning is trending: the demand for motorhomes and caravans rose significantly in June. With a total of 12,726 registrations in June 2020, recreational vehicles were the only growing segment alongside motorcycles in Germany and accounted for 4 percent of all new registrations. According to the KBA (the German Federal Motor Transport Authority), motorhome registrations were 65.4 percent higher than in the same month of the previous year. Both the motorhome and caravan segments show significant growth across Europe. The Erwin Hymer Group (EHG) expects the effects of the corona crisis to give the already booming RV market an additional boost. EHG Chairman Martin Brandt considers "Slow Travel" as the travel form of the future.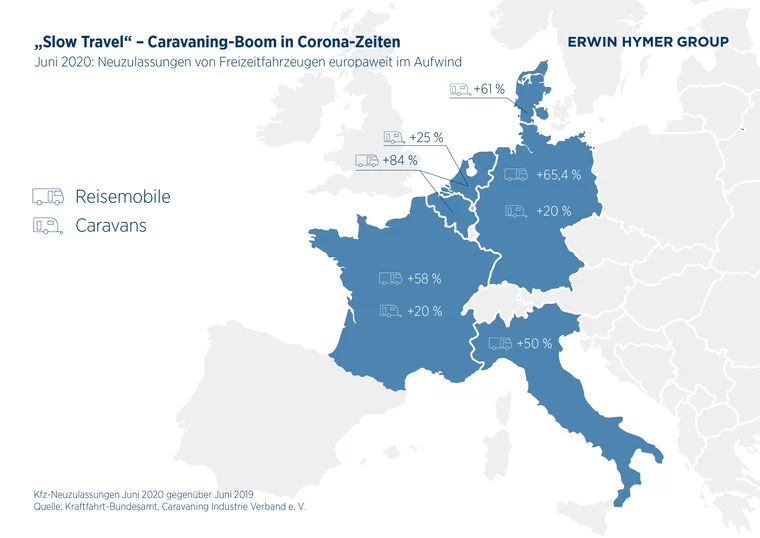 "Slow Travel" stands for relaxed and safe travel in motorhomes, caravans and camper vans – and thus for deceleration and mindfulness. More and more people are discovering caravanning as the type of travel that allows them to look forward to the long-awaited vacation even in times of crisis. The advantages are obvious: motorhomes in particular allow flexibility when choosing a destination and spontaneous reactions to new developments. Because of their self-sufficiency – with showers, toilets and a freshwater tank on board – they are subject to fewer restrictions in the current situation and are not dependent on campsites and their infrastructure. At the same time, the home on wheels automatically allows to keep more distance from third parties compared to other forms of travel and vacation. Many experienced and new caravanning fans will therefore be able to enjoy their vacation this year even with the current travel restrictions.
Martin Brandt, CEO of the Erwin Hymer Group, expects these experiences to have a long-term impact: "The current crisis will further strengthen the trend towards slow travel, which is a conscious and decelerated way of travelling. More than ever, caravanning stands for flexible and individual vacationing – in Germany and all regions of Europe."
Germany (+65,4 percent) is not the only country with an enormous growth in new motorhome registrations compared to June last year. According to figures from the German Caravaning Industrie Verband e. V. (CIVD), this trend is also evident throughout Europe: France (+58 percent) and Italy (+50 percent) show similar growth levels, while sales in Belgium and the Netherlands have almost doubled with 84 percent. The trend in the European caravan market is also clearly positive; Germany and France are up by around 20 percent, the Netherlands by 25 percent and Denmark by 61 percent.
EHG's CEO also sees additional encouraging signs in the market. Martin Brandt: "Even during the crisis, the trend has been confirmed that buyers of recreational vehicles are getting younger and that more and more families are joining them. Vehicles under 3.5 tons and especially camper vans are particularly popular. Inquiries to our rental companies McRent and rent easy have also risen substantially in recent weeks – especially for short-term bookings. Due to travel restrictions, many people are interested in camping for the first time ever and would like to try out this form of vacationing in a rental vehicle."
The Erwin Hymer Group responded at an early stage to the changed conditions and the strong demand. Under the European-wide campaign slogan "Slow Travel – Conscious Travel", the Erwin Hymer Group brands advertise autonomous and decelerated vacations with motorhomes, caravans and camper vans – and invite customers to visit their authorized dealers. Group-wide digital campaigns will then be launched in September. For the first time in the history of the caravanning industry, the brands will interact with their target groups and authorized dealers within one system. Those interested in caravanning are activated through the digital channels and immediately directed to the retail partner of their choice.
In order to meet the interest generated by the "Slow Travel" campaign, EHG's 1,200 retail partners throughout Europe have properly prepared themselves and made comprehensive arrangements for contactless consulting.